The biggest advantage data science brings into your business is mitigating risk and fraud. Data science companies are experts in detecting and eliminating unusual and risky data. Data science equips decision-makers with accurate information to make informed choices.
The best data science solutions assist businesses in identifying and refining the target audience for the benefit of the company. Whether you are looking to access trends to direct your action for achieving business goals or test certain decisions, data science can aid you. Check out the below listed top data science service providers, to ease the processing of big data.
Introduction to Data Science
Data Science is an interdisciplinary topic that combines Statistics, Computer Science, and Machine Learning techniques to extract insights from Structured and Unstructured Data. Data Science is one of the decade's fastest-growing, most complex, and well-paying careers. Upon understanding its importance, numerous Data Science Companies have emerged to provide Data-Driven solutions across industries.
Key Components of Data Science
A majority of the top Data Science Companies follow a similar pattern to proceed in a Data Science Project. The key components in any Data Science Project are:
Step 1: Data Exploration 
Step 2: Data Modelling 
Step 3: Testing the Model 
Step 4: Deploying Models
Step 1: Data Exploration
Data Exploration is the most crucial phase as it takes the most time for all the Data Science Companies. Data Exploration takes up around 70% of the complete project duration. Since Data is the most important component of Data Science, Data is rarely available in a well-formatted way. The Data often contains a significant amount of noise. The term "noise" refers to a large amount of unnecessary Data.
This process entails Data Sampling and Transformation, during which evaluation of Observations (Rows) and Features (Columns) are done and Statistical methods are used to reduce noise. This stage is also used to evaluate the relationship between Distinct Features in the Dataset; "relationship" means whether the Features are dependent or independent of one another, and whether or not there are missing values in Data. All the Data Science Companies spend most of their time in Data Exploration.
Step 2: Data Modelling
So far, the Data has been prepared and is ready to go. This is the second step taken by Data Science Companies, in which Machine Learning Algorithms come into the picture. This is where the Data is fitted into the model. The Model is chosen based on the type of Data selected and the business requirement to be fulfilled. For example, the model chosen for proposing an article to a consumer will be different from the model necessary for estimating the number of articles sold on a given day.
Step 3: Testing the Model
This is the following step, and it is critical to the model's success. The model is tested with Test Data to ensure that it is accurate and has other desirable properties, and necessary changes are made to the model to achieve the intended result. If we do not achieve the requisite precision, we can return to Step 2 (Data Modelling), choose an alternative model, and then repeat Step 3 and then select the model that produces the best results for the business. This is a very important step for Data Science Companies as the accuracy of the model is found at this stage.
Step 4: Deploying Models
The model which provides the best result based on test findings is completed and deployed in the production environment whenever the desired result is achieved through proper testing as per the business needs.
Key Skills Required in Data Science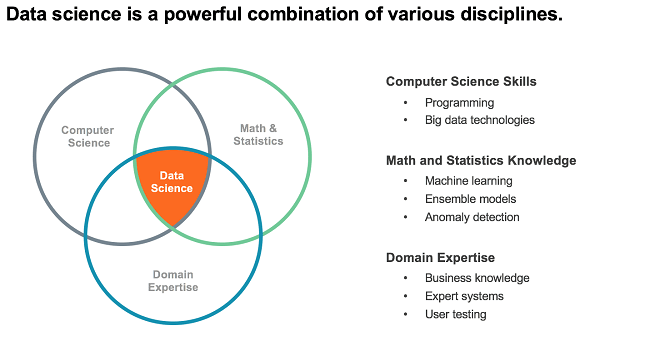 All Data Science Companies expect the ideal candidate to know some skills. Below, are the skills one should know before applying to any Data Science Organization:
Statistics and Probability
Programming Skills
Data Visualization Skills
Machine Learning and Deep Learning
Communication Skills
1) Statistics and Probability
Data Science is built on the foundations of Statistics and Probability. Probability Theory is quite useful in formulating predictions. Data Science relies heavily on Estimations and Projections. We make Estimations for further examination with the use of Statistical approaches. As a result, Statistical approaches are heavily reliant on Probability Theory. Statistics and Probability are solely based on Data.
2) Programming Skills
Python is the most prevalent coding language required in the Data Science profession, however other programming languages such as R, Perl, C/C++, SQL, and Java are also used. Data Scientists can use these programming languages to arrange Unstructured Data Collections.
3) Data Visualization Skills
People skim and skip the most essential stories in the newspaper, but the ones that people read are mostly Sketches. It is a human concept to see something and have it registered in one's mind. The complete Dataset, which may number in the hundreds of pages, can be reduced to two or three Graphs or Plots. To create Graphs, one must first visualize the Data Patterns. Microsoft Excel is a fantastic program that generates the appropriate Charts and Graphs based on our requirements. Tableau, Metabase, and Power BI are some examples of other Data Visualisation and Business Intelligence tools.
4) Machine Learning and Deep Learning
Machine Learning is a must-have ability for any Data Scientist. Predictive Models are created using Machine Learning. For example, if you want to forecast how many clients you'll have in the upcoming month based on the previous month's Data, you'll need to employ Machine Learning techniques. The Data Science Companies are always trying to improve the accuracy of Machine Learning and Deep Learning Models they build.
5) Communication Skills
You must communicate your findings to a group of Teammates or Senior Management. Communication allows us to rise above what everyone is fighting for. Being a competent communicator allows you to convey ideas and identify any Data Contradictions. In a Project, in Data Science Companies presentation skills are crucial for showcasing Data Discoveries and planning the future.
Understanding the Need for Data Science
All Data Science Companies understand the need for Data Science and try to provide their services across all industries. Below are the two main needs which non-Data-driven companies should look upon:
Historical Data: With Data Science housing strong tools, it assists us in extracting insights from past Data. It aids in the optimization of the business, hiring the right people, and the generation of more money, as Data Science enables you to make better business decisions in the future.
Business Strategy: Data Science Companies can better create and advertise their products by narrowing down their target market. Consumers can use Data Science to find better products, especially on E-Commerce websites that use a Data-driven recommendation engine.
10 Top Successful Data Science Companies
For service-seekers like you, ThinkDataAnalytics presents a list of Top Data Science Companies, apt for all kind of data operations for your team. 
Amazon
MuSigma
Fractal Analytics
Accenture
Bridgei2i Analytics
Tiger Analytics
LatentView
Absolutdata
Innovaccer
TEG Analytics
Impact Analytics
Amazon
Amazon is a multinational technology company which focuses on e-commerce, cloud computing, digital streaming and artificial intelligence. It is considered as one of the Big Five – the most dominant companies in the information technology industry. Amazon is not just a great data science company to work for, but it is also one of the most valuable brands in the world. Amazon has millions of customers, and hence provides various opportunities for data scientists to explore large data-driven projects. 
Amazon was founded in 1994 by Jeff Bezos as an online marketplace to sell books. It is headquartered at Seattle, Washington State, and has over 1,000,000 employees across dozens of offices in more than 30 countries.
The average salary of a Data Scientist at Amazon is $121,707 per annum.
Notable Projects
Amazon's Alexa data from customers that further used to refine their website, algorithms, and overall sales process. There have also been reports that Amazon may open up some of this data to outside developers.
Data-driven Dynamic Pricing Algorithm
Amazon leverages the extensive amounts of data they collect everyday to refine and produce a dynamic pricing algorithm. With this algorithm, the price of an item changes every 10 minutes to ensure that prices are always competitive.
MuSigma
With a Unicorn status in the United States, MuSigma is amongst the world's largest pure-play Big Data Analytics and Decision Sciences companies. Through a unique ecosystem that brings together People, Processes, and Platforms, MuSigma collaborates with over 140 Fortune 500 firms. There are currently 3500 Data Scientists working for them around the world. MuSigma has been named Walmart's Supplier of the Year on four occasions, as well as Microsoft's preferred Analytics partner. Thus, it is one of the top companies for Data Science around the globe.
Fractal Analytics
Fractal is one of the most well-known Artificial Intelligence and Data Science Companies. Fractal's objective is to employ AI and help the world's most admired Fortune 500 firms by powering every human decision in the enterprise.
Qure.ai, which helps radiologists make better diagnostic decisions, Cuddle.ai, which helps CEOs and Senior Executives make better tactical and strategic decisions, Theremin.ai, which helps investors make better investment decisions, and Eugenie.ai, which helps find anomalies in high-velocity Data, are all Fractal products.
Accenture
Accenture is a multinational professional services company comprising Accenture Strategy, Accenture Consulting, Accenture Interactive, Accenture Technology and Accenture Operations. Accenture Interactive is focused on providing data analytics and mobility services to its customers. 
Accenture has been on Fortune's list of the 100 Best Companies to Work For 12 years in a row. Founded in 1989, Accenture has over 505,000 employees across 53 countries today.
The average salary of a Data Scientist at Accenture is $105,155 per annum.
Notable Projects
Big Success With Big Data
Accenture recently conducted a unique research on Big Data by interviewing thousands of executives from several industries, located in 19 countries around the globe. The survey led to several significant findings useful for further research on big data.
Bridgei2i Analytics
BRIDGEi2i is a trusted partner for businesses all around the world for driving digital transformation efforts. They solve difficult business problems with contextual AI-powered insights and achieve Digital Transformation results.
Tiger Analytics
Tiger Analytics is breaking new grounds in how AI and Analytics may be used to solve some of the world's most difficult problems. For several Fortune 500 organizations, they have created custom solutions based on Data and Technology. They have offices in numerous cities across the United States, the United Kingdom, India, and Singapore, as well as a large worldwide virtual workforce.
They've won numerous honours, including being named a Forrester Research Leader and Financial Times' fastest-growing IT businesses. They routinely appear on lists of the "Best Analytics Firms." Thus, they can be considered one of the best Data Science Organizations to work for. 
LatentView
LatentView Analytics is one of the prominent worldwide Analytics and Data Science Companies that help businesses achieve Digital Transformation and build a competitive advantage through Data. With Analytics Solutions they provide a 360-degree perspective of the digital consumer, power Machine Learning capabilities, and aid AI ambitions.
Predictive Modeling, Marketing Analytics, Big Data Analytics, Advanced Analytics, Web Analytics, Data Science, Data Engineering, Artificial Intelligence, and Machine Learning Applications are just a few of the areas in which they excel.
Absolutdata
Absolutdata, an Infogain company, combines cutting-edge AI and Machine Learning with its legacy in analytical frameworks, business expertise, and technology to create scalable business impact throughout the enterprise. The enterprise-focused NAVIK AI Platform combines AI, Data, and Analytics to serve as the intelligence layer for forward-thinking businesses.
The NAVIK AI Platform provides a range of pre-built AI solutions, or it can be licensed and modified using a strong bench of Data Scientists and Engineers.
Innovaccer
Innovaccer Inc is a leading Healthcare Data activation platform firm that uses cutting-edge Analytics and transparent, clean, and accurate Data to deliver more efficient and effective Healthcare.
Innvoaccer's goal is to help medical-related organizations make powerful decisions and achieve strategic goals based on key insights and predictions from their Data by simplifying complex Data from all points of care and streamlining the information. It is the only company amongst the top Data Science Companies which only focuses on Healthcare Solutions.
TEG Analytics
TEG Analytics is a Data Science as a Service Company that helps businesses make better decisions by combining Business, Technology, and Applied Mathematics. Their goal is to provide Insights at Business Speed, hence, being an excellent Data Science Organization.
TEG aids market leaders in defining Analytics-driven strategy across industry verticals (such as Retail and Consumer Packaged Goods, and Healthcare). TEG has carved out a position for itself in the field of Sales and Marketing Analytics.
Impact Analytics
Impact Analytics creates AI-powered retail automation technologies with a 360-degree view to help businesses automate complex procedures and turn Data into insights. To create solutions that lure clients, they combine business expertise from top-tier strategy consultants, advanced Machine Learning techniques from skilled Data Scientists, and cutting-edge product development from expert Application Designers and Developers. Impact Analytics comes amongst the top companies for Data Science.